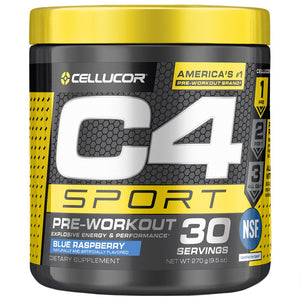 Cellucor C4 Sport Pre Workout Powder Sports Hydration & Energy Drink Supplement With Creatine monohydrate & beta Alanine, Blue Raspberry, 30 Servings
Sale price Price $17.79 Regular price $0.00
Brand: Cellucor
Color: blue
Features:
A legacy of excellence - we've been pioneering, building, and perfecting pre-workouts longer than most brands have been in sports nutrition. We're Obsessed with research, improvement, and results. We're innovators and leaders, and we're not new to our work. We have a legacy of building the best, most effective pre-workouts available.
Better energy, performance, and training - Every scoop of C4 Sport combines two formulations to support performance and energy into one, including 135mg caffeine and zero sugar so every base of your workout is covered for unrivaled focus and training.
100% Satisfaction guarantee: All Cellucor products are thoroughly developed, accurately tested, and proudly manufactured in the United States. All Cellucor sales by Amazon are backed by a 30-day, full money-back guarantee.
Superior certification standards: with C4 Sport, we've gone the extra mile and had it NSF-certified for Sport to guarantee its safety for Pro athletes and everyday athletes alike. This program is recognized by the NFL, NFL players Association, MLB, MLB players Association, NCAA, NBA, PGA, LPGA and Canadian centre for Ethics in sports.
Premium fitness journey: explosive energy, heightened focus and an overwhelming urge to tackle any challenge...That's the C4 experience. Millions of people­-ranging from beginners all the way up to the Elite competitors, have relied on C4 to turn their ambitions into achievements.
Publisher: Cellucor
Release Date: 25-06-2017
Details: We've been pioneering, building, and perfecting pre-workouts longer than most brands have been in sports nutrition. We're obsessed with research, improvement, and results. We're innovators and leaders, and we're not new to our work. We have a legacy of building the best, most effective pre-workouts available.

every scoop of c4 sport combines two formulations to support performance and energy into one, including 135mg caffeine and zero sugar so every base of your workout is covered for unrivaled focus and training. The performance side includes Creatine monohydrate for muscle endurance, Arginine AKG to increase blood flow and keep you going, and Beta Alanine to help keep fatigue at bay. The energy side contains an explosive blend of caffeine and taurine for unrivaled focus and energy. 

with c4 sport, we've gone the extra mile and had it NSF-certified for Sport to guarantee its safety for Pro athletes and everyday athletes alike. This program is recognized by the NFL, NFL players Association, MLB, MLB players Association, NCAA, NBA, PGA, LPGA and Canadian Centre for Ethics in sports.

UPC: 810390029198

EAN: 810390029198

Package Dimensions: 4.1 x 3.6 x 3.6 inches
Join us as seller