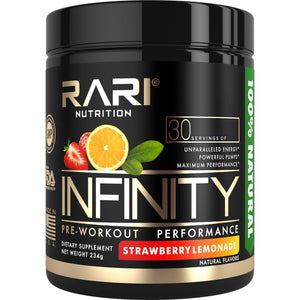 RARI Nutrition - INFINITY Preworkout - 100% Natural Pre Workout Powder - Keto and Vegan Friendly - Energy, Focus, and Performance - Men and Women - No Creatine - 30 Servings (Strawberry Lemonade)
Sale price Price $29.95 Regular price $0.00
Brand: RARI Nutrition
Features:
✅ FORMULATED WITH THE BEST 100% NATURAL CLINICALLY DOSED INGREDIENTS - INFINITY pre workout contains clinically dosed healthy ingredients proven to achieve maximum muscle pump, power, and high performance for both men and women. Every ingredient is scientifically dosed to achieve maximum benefits without any unnecessary fillers unlike most preworkout powders. INFINITY is creatine free, as we believe it is not a one size fits all ingredient.
✅ NO "SHAKES", "JITTERS", OR CRASHING- Sustainable clean and natural energy to get you through even the most intense gym workouts, without any adverse effects such as shakes, jitters, and crashing. Most cheap pre-workout supplements on the market result in a short amount of energy, followed by a brutal crash leaving you fatigued for the rest of the day. INFINITY is formulated to avoid any undesirable side effects for both men and women.
✅ Good Manufacturing Process (GMP) LAB CERTIFIED- Our labs are GMP certified for safety and all our ingredients are tested for purity. The GMP certification is enforced by the U.S. F.D.A. so you can be completely confident in the quality and safety of our product. All RARI Nutrition products are vegan friendly.
✅ ENERGY, PUMP, AND FOCUS- Not only does INFINITY pre-workout drink energize your workouts, but also ensures peak levels of pump and volume through safe nitric oxide booster ingredients and extreme focus. Want to build lean muscle mass, lose stubborn fat and achieve weight loss, runners looking to increase their cardio, or just looking for an extra boost of caffeine before workouts? INFINITY is the preworkout mix for you. No top rated pre workout product is complete without all of these elements
✅ 100% MONEY-BACK-GUARANTEE- We are so confident in our products that if for any reason you are not completely satisfied with your results, we will fully refund your purchase.
Publisher: RARI Nutrition
UPC: 860612000207
EAN: 860612000207
Package Dimensions: 4.5 x 3.7 x 3.7 inches
Join us as seller