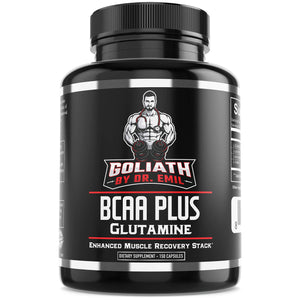 BCAA + 1500mg Glutamine - Highest Capsule Dose (3200 mg) - Branched Chain Amino Acids w/Optimal 2:1:1 Ratio - Enhanced Recovery and Growth Stack for Men and Women (150 BCAA Pills)
Sale price Price $23.95 Regular price $0.00
Brand: DR EMIL NUTRITION
Features:
BCAA + GLUTAMINE - Our BCAA pills are enhanced with a high dose of L-Glutamine, which has been shown to enhance BCAA metabolism, creating the ideal synergy for a superior recovery & growth stack.
OPTIMAL 2:1:1 BCAA RATIO - Our formula uses an optimal 2:1:1 ratio of L- Leucine, L-Isoleucine & L-Valine for premium muscle growth support & prevention of muscle breakdown, fatigue & soreness.
DOCTOR-DRIVEN, SCIENCE BACKED - Bringing Dr. Emil's unique knowledge as both a medical doctor & recognized authority in the supplementation field (he's also a former pro bodybuilder!), our blends are painstakingly formulated to provide superior results and are always backed by science - free of gimmicks, fads & false promises.
SYNERGISTIC POST WORKOUT & RECOVERY BLEND - On its own, L Glutamine HAS been clinically shown to support muscle recovery & growth while preventing muscle wasting & breakdown. When combined with the BCAAs it has been indicated to significantly support the metabolism of these vital amino acids, creating a powerful synergistic effect for optimal post-workout recovery.
ONLY THE RIGHT STUFF - All Dr. Emil products are made from all-natural vitamins, minerals & herbal extracts, without the use of harmful additives; non-GMO; free of hormones, gluten and all top 8 allergens. All products are manufactured in the USA in an FDA-registered, GMP certified laboratory.
Publisher: DR EMIL NUTRITION
Details:
ABOUT THE PRODUCT
ADVANCED RECOVERY & GROWTH STACK - BCAA PLUS was formulated with an optimal ratio of the 3 branched chain amino acids plus a robust 1500 mg dose of L-Glutamine. Glutamine not only supports muscle recovery but also aids in BCAA metabolism, creating an ideal muscle recovery blend.
 
HIGH DOSAGE WITHOUT THE POWDER - Our formula has a significantly higher dosage of these combined amino acids (BCAAs + Glutamine) than other products in capsule form. Our 3200 mg dosage is the highest available in capsule form and is comparable to many BCAA powder product serving sizes. Avoid the hassle & inconvenience of cumbersome containers & powder mixing without sacrificing dosage.
 
WHO BENEFITS - Whether you're a distance runner, bodybuilder or simply an intense exerciser, our formulation is right for you. Using ingredients known to aid muscle recovery & growth & prevent soreness & fatigue, BCAA PLUS can help you bounce back quicker and stronger.
ABOUT THE DOCTOR
Dr. Emil Hodzovic has the unique distinction of being both a practicing medical doctor and recognized authority in the nutrition and supplementation fields. Not to mention, he's also competed as a pro bodybuilder!
Dr. Emil is a published author and contributor to popular magazines, including: Men's Health, Men's Fitness & The Guardian as well as various other publications.
Emil is now a highly-sought after fitness, health & nutrition coach (when he's not saving lives in the ER).
ABOUT THE BRAND
Harnessing Dr. Emil's distinctive & accomplished background, our supplements are painstakingly formulated to deliver real results and are always backed by hard science and clinical data. Incorporating both time-tested & cutting-edge ingredients, our supplements provide superior benefits - free of gimmicks, fads and hype.
All products come with a 100% money-back guarantee.
UPC: 850002956078
EAN: 850002956078
Package Dimensions: 4.8 x 2.6 x 2.6 inches
Join us as seller