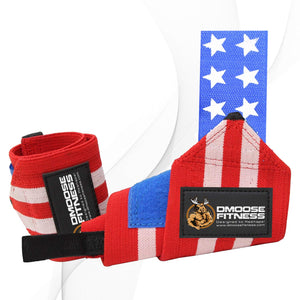 DMoose Fitness Wrist Wraps - Premium Quality, Strong Fastening Straps, Thumb Loops - Maximize Your Weightlifting, Powerlifting, Bodybuilding, Strength Training & Crossfit ...
Sale price Price $13.97 Regular price $0.00
Brand: DMoose Fitness
Color: American
Features:
INCREASE STRENGTH & TECHNIQUES - Improve your weightlifting, powerlifting, bodybuilding, MMA and CrossFit techniques with secure, comfort-fit wrist wraps. Support and strengthen your wrist to prevent sudden twists & Enjoy bigger gains and sustained workout routines at the gym.
IMPROVED LONG-TERM STABILITY - Traditional wrist wraps start ripping and breaking down due to weight and use. However, our wrist wraps boast a wide fastening straps design, double stitching and a Super Heavy Duty material to reduce stress, wear and tear. 10X BETTER QUALITY THAN THE SO CALLED PROFESSIONAL GRADE WRIST WRAPS!
QUALITY WITH ATTRACTIVE DESIGN - You won't find stylish Wrist Wraps like these anywhere else! It's a sleek, modern choice of wrist wraps for men and women alike! and Relax! These wraps are 100% safe, for you and for the environment.
COMFORT FIT ADJUSTABILITY - These fully adjustable wrist wraps boast a secure, high-grade polyester and fastening strap to give you premier comfort and stability, while also properly securing weights. Just put them on and adjust to desired fit. Fits both Men & Women
LIFETIME GUARANTEE - Our motto is "Give them Quality. That's the best kind of advertising". We want happy & satisfied, that's why we're giving you a full refund or replacement for life to ensure premium craftsmanship although we are always happy to resolve whichever problem occurs.
Publisher: DMoose
Details:
The most durable Wrist Straps currently available!
Enhance your workouts and weightlifting potential by ensuring proper technique and strength-building with premium wrist wraps from DMoose Fitness!
Whether you're hitting the gym for powerlifting, weight lifting, CrossFit or just some light routines to get you back in shape, it's imperative that you protect the health of your arms and wrist with premium-grade Lifting Wrist Wraps from DMoose Fitness.
Enhanced Strength and Reliability
Crafted with soft, comfort-fit Polyester and ultra-strong Elastic, our wrist wraps for weight lifting offer a secure fit for anyone looking to enhance their arm exercises with proper form and better leverage. And because each extra wide wrist wrap features double stitching and wide fastening straps for security, you can be sure you're getting the best workout and maintaining the best form while sculpting your body.
Product Details:
Comfort Fit Super Heavy Duty Wrist Wraps
Premium-Grade, Double-Stitched Polyester
Thumb Loop
Protects Arms and Distributes Weight Evenly
Improved fastening straps System (Stays Fastened)
Lifetime Guarantee
Still not convinced?
Then remember, DMoose always wants the best for you, that's why we offer a 100% money back guarantee, or we will help you resolve any problem!
Click 'Add to Cart' now and take your weightlifting and overall fitness seriously by getting a pair of premium DMoose Fitness Wrist Straps today.
Our Stocks are going away fast at this LOW INTRODUCTORY PRICE!
UPC: 705911454088
EAN: 705911454088
Package Dimensions: 6.3 x 3.6 x 1.2 inches
Join us as seller