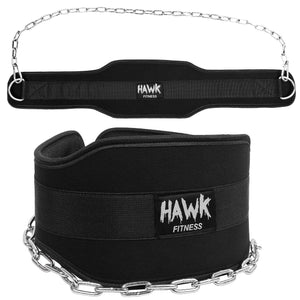 Hawk Fitness Dip Belt With Chain For Men & Women Dipping Pull Up Belt Crossfit Weight Lifting Training Gym Bodybuilding Weightlifting!
Sale price Price $9.99 Regular price $0.00
Brand: Hawk
Color: Black
Features:
STRONG INNER PADDING: Constructed from the highest quality neoprene dip belt weight lifting belt men for strength and durability! With a heavy inner padding to ensure that this Dipping Belt can withstand heavy weights
36'' EXTRA LONG ADJUSTABLE STEEL CHAIN: Hawk dipping belts can be used for a variety of exercises to increase the resistance of the user which allows for extreme muscle building, whether it's pull ups belt or dips belt our powerlifting belt will surely be able to allow for better workouts workout belt
MESH LINED FOR DURABILITY: We have come up with the unique design for this unisex Dipping Belt, we wanted a solid and long lasting Dip belt hence we made the Dipping belt from extra thick heavy duty neoprene making sure it can withstand heavy weights and high impacts without falling apart like other dip belts
CAN HOLD UPTO 300LBS: The Dipping Belt can stand up to the stress caused by holding extremely heavy weights. The Dipping Belt has been fully tested by a wide range or athletes and is also proving extremely popular in commercial gym surrounds where there is high usage and stress on the pull up bar belt , weightlifting belt for men .
LIFETIME WARRANTY: Order now and receive your heavy duty dipping belt with a money back guarantee: If you aren't happy with the dip belt with chain simply send it back for a no questions asked refund. ONE SIZE FITS ALL
Publisher: Hawk Fitness
Details: This dipping belt comes from a team of power lifters and strong men who have considered all the requisite and complications
of mens weightlifting belts for dips while designing this chain belts for women. A workout belt provides a wall for your abs to push against the added force with limited space means increased
anterior pressure that helps to stabilize the spine during weight lifting.

FEATURES:


36'' long chain belt for lifting with two sided hooks for chain adjustment.
6mm thick dip and pullup bar belt / gym belt for men makes the ideal chin up belt for dipping and pull up belt .
Rounded edges are comfortable to grasp and are skin friendly weight belt for dips .
Genuine mesh lining chin ups belt for lifetime durability and comfort-ability.
Heavy duty stitching increases the life and looks of the weighted belt womens weightlifting belt for women .
Embraces the core to reduce stress on the spine during heavy workouts weight lifting dip belt .
Top level rivets that would hold the weight belt with chain together for years to come.
6'' width weight belts for dips / lifting are ideal to tighten your core during heavy lifting .
Uniquely, this dipping belt can withstand weight upto 300lbs .
Ideal weight lifting belts for men & women.
MAXIMUM QUALITY at a MINIMUM PRICE:
This a bargain, we bet that you would not be able to find a dip bar dipping belt with chain at this price in the market.
This weighted dip belt weightlifting will serve you for a lifetime.
UPC: 649152999482
EAN: 649152999482
Package Dimensions: 11.3 x 6.7 x 2.4 inches
Join us as seller