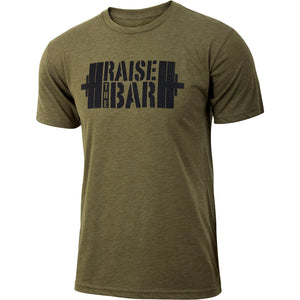 Jumpbox Fitness Raise the Bar - Military Green - Men's Barbell Weightlifting Triblend Workout T-shirt
Sale price Price $26.00 Regular price $0.00
Brand: Jumpbox Fitness
Color: military green
Features:
Short sleeve
Premium fit. Athletic cut.
Triblend fabric. Ultra-soft, plenty of stretch, great moisture release
50% poly, 25% cotton, 25% rayon
Crush your next crossfit WOD, weightlifting or strength training workout in ultimate comfort
Publisher: Jumpbox Fitness
Details: About the design:
We athletes are in constant pursuit of our stronger, faster, better selves. We're always looking to lift more. Hit a new PR. Up our own game and the game of our competitors. RAISE THE BAR.

About the shirt:
This premium, quality t-shirt is sure to become your favorite workout shirt thanks to its superior fabric, fit and graphics. Fabric: The triblend fabric is ultra-soft, lightweight without being too thin, stretches to comfortably move with you, and breathes well to release moisture so you can maintain a comfortable body temperature. The fabric minimizes shrinkage while retaining its shape. Fit: This shirt has an athletic cut and true-to-size sizing to highlight your physique. Not a baggy fit. Graphics: The professionally-created graphic design is silkscreened to the shirt by hand to provide lasting graphic durability as well as a rugged, lived-in appearance that doesn't look cheap or shiny. Not an iron-on.

About the brand:
Jumpbox Fitness stands for rising to challenges, committing to goals and pushing hard to reach new PRs. We make quality athletic apparel for athletes committed to functional fitness, cross training, weightlifting, high intensity interval training (HIIT), and other forms of strength and conditioning performance training. Our WOD-tested apparel perform during the toughest workouts at the Box. We're as focused as you are about earning the Rx, pushing through the burpees, box jumps, double unders and kettlebells, and moving big weight at the barbell on the Olympic lifts. Whether you're hooked on crossfit, weightlifting or another exercise training program, we invite you to join Jumpbox Fitness on the journey. Be powerful. Raise the bar.
UPC: 602401757592
EAN: 602401757592
Package Dimensions: 11.3 x 7.3 x 1.3 inches
Join us as seller