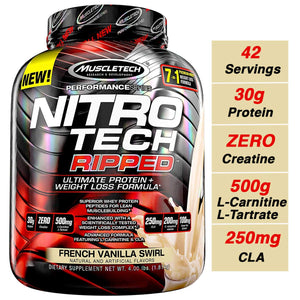 MuscleTech Nitro Tech Ripped Ultra Clean Whey Protein Isolate Powder + Weight Loss Formula, Low Sugar, Low Carb, French Vanilla Swirl, 4 Pounds
Sale price Price $50.94 Regular price $0.00
Brand: MuscleTech
Color: Green
Features:
30G OF WHEY PROTEIN PER SERVING : 30 gram of Pure Whey Protein, sourced primarily from whey peptides and whey isolate two of the cleanest and purest protein sources available
SCIENTIFICALLY TESTED WEIGHT LOSS : Features the key ingredient,Green Coffee Bean Extract, which has been shown in two double blind, placebo controlled studies to help subjects lose weight
BUILD MORE STRENGTH THAN WITH REGULAR WHEY PROTEIN : Contains a research proven 3 gram dose of creatine monohydrate, which combined with whey protein helps to build more strength than regular whey protein
BETTER MACRO NUTRIENT PROFILE : Doesn't pack the extra sugar and carbs you'll see in other protein powders with only 4 gram of carbs, depending on the flavor, and no more than 2.5 gram of fat
COLD MICRO FILTRATION PROCESS TO REMOVE MORE FAT, CARBS & LACTOSE : Unlike the other guys, we don't use heat, harsh acids or salt, Our whey protein has been filtered using Multi Phase Filtration Technology for less fat, lactose and impurities than cheaper protein sources
Publisher: Iovate Health Sciences Incorporated
Release Date: 24-11-2015
Details: Unlike other regular whey protein and whey protein isolate products, every scoop of NitroTech Ripped delivers a scientifically studied dose of its key weight loss ingredient, C. canephora robusta, that is backed by two human studies for results you can trust! NitroTech Ripped provides a 30g blend of whey peptides and whey isolate for high levels of essential branched chain amino acids (BCAAs). And each two scoop serving of this incredible, new whey protein formula also delivers CLA, MCTs, L carnitine L tartrate, green tea extract, rose hip extract and kelp powder– plus C. canephora robusta!
UPC: 631656709575
EAN: 631656709575
Package Dimensions: 10.8 x 7.6 x 7.6 inches
Languages: German
Join us as seller