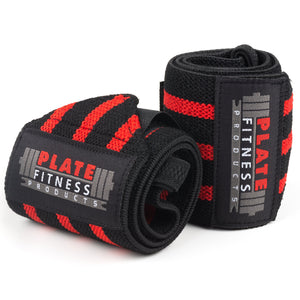 Plate Fitness Products Wrist Wraps (Premium Quality,18") Superior Materials - Weight Lifting, Powerlifting, Crossfit, Strength Training - One Size Wrist Support for Men and Women
Sale price Price $12.77 Regular price $0.00
Brand: Plate Fitness Products
Color: Black & Red
Features:
THE BEST QUALITY WRIST WRAPS - A full 21" length, 18" inches for the wrap support with an extra-long 3" Velcro strap for additional comfort and support. Once you try them you will immediately notice the difference because our wrist wraps provide the best wrist support for both men and women and can be used in a wide variety of sports and fitness including, Weight Lifting, Bodybuilding, Crossfit, Yoga and even Boxing
PROFESSIONAL HEAVY DUTY WRIST WRAPS - These adjustable wrist wraps are designed to stand up to the toughest workouts and are made of premium quality materials and a durable design. They have been tested under the toughest conditions to withstand any fitness workout
INDUSTRIAL STRENGTH STITCHING - These premium wrist supports feature heavy duty stitching that heavily reinforces their durability, allowing them to be used day after day without tearing. The elastic thumb loop also provides the extra support and comfort. Try them and you will see why they are the best wrist wraps on the market
UNMATCHED SUPPORT FOR COMFORT - The unique design of our wrist support along with its extra length, will provide you with all the support you're looking for in a pair of wrist wraps. They allow you extreme comfort and complete freedom of movement without inhibiting your flexibility and fits both men and women
RISK-FREE - our wrist wraps have a Lifetime return policy which means you can experience your new wrist wraps and enjoy your workouts completely risk-free. Whether you're into weightlifting, powerlifting or crossfit we have got you covered
Publisher: Plate Fitness Products
Details: Maximum Support Wrist Wraps!
Are you wanting effective wrist support to enhance your workouts and training? If you are someone who enjoys working with the weights and pushing your limits these are the premium wrist support straps for you. Our wrist straps allow you to reach your maximum potential by ensuring that you have the best equipment. These exceptional wrist straps are an item that any serious athlete needs to have and comes complete with a thumb loop for added comfort and grip.
Why use our heavy duty Wrist Wraps?
They provide much needed wrist support and stability to your wrists when lifting weights
They help to strengthen your wrists
For added comfort and protection for your wrist flexors and extensors
Who could benefit from our Wrist Wraps?
Our wrist wraps are unisex and benefit men and women
Anyone doing weight training, Powerlifting, Weightlifting, Bodybuilding and Crossfit
Product Specifications:
Dimensions: 21" x 3" (Velcro 5" x 2")
Reinforced Stitching
Commercial Grade Velcro
Thumb loop
One size fits all
Risk-Free
Now you can lift with greater confidence! Simply click the, Add To Cart button above, to purchase your new Wrist Support Wraps today.
Not completely satisfied? We'll make it right, no questions asked. Our lifting support straps have a LIFETIME WARRANTY which means you can experience your new Wrist Wraps risk-free. So if you want a set of wrist straps that are comfortable, durable and will help to strengthen your wrists, click the "Add to Cart" button and Order Now, with our current promotional offer and ensure maximum support and increased results from your workouts.
UPC: 49047368537
EAN: 49047368537
Package Dimensions: 8.0 x 4.0 x 2.0 inches
Join us as seller