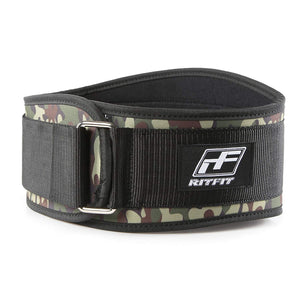 RitFit Weight Lifting Belt - Great for Squats, Crossfit, Lunges, Deadlift, Thrusters - Men and Women - 6 Inch Black (Camouflage, M(30-36''))
Sale price Price $20.99 Regular price $0.00
Brand: RitFit
Color: Green Camo
Features:
Functional&Versatile: Contoured extra wide 6'' weight lifting belt provides a full support and can ensure your back, abs and entire core are evenly stabilized for extra power and strength. Will prevent back injuries when lifting heavy weights. Not only for your body building, but also ideal for exercises such as back squats, power cleans, dead lifts, clean and jerks, overhead squats and much more.
Extremely Comfortable&Strong: Won't ride up or dig into your sides or hips and will fit you perfectly. Made of premium reinforced tricot so it's very durable and won't break, tear, or wear out like inferior weight belts made from fake leather, plastic or nylon.
Work Out with Confidence: Feel and look your best while promoting safe weight lifting technique. Avoid injury and maximize your exercise performance.
QUICK&EASY TO ADJUST:We uses a thick and strong velcro support strap coupled with a stainless steel roller buckle that allows you to adjust the tightness to your exact desired support and comfort for leg and core body exercises.
Guarantee: If you are not 100% in LOVE with your RitFit belt, just let us know and we'll refund you in full. WHAT SIZE DO I GET: Find your perfect fit by checking our sizing guide in the pictures. Available in Small, Medium, Large, XL and XXL. For a risk-free purchase click "Add to Cart"!
Publisher: RitFit
Details: RitFit Low Profile Weight Lifting Belt 6¡±Inches Black - For WeightLifting, Gym, Crossfit, and Fitness - Firm & Comfortable Lumbar Support with Back Injury Protection Life time Guarantee !!! FEATURES ??RitFit weight lifting belt are ergonomically designed to provide firm & comfortable lumbar support during any kind of Strength Training. ??6¡± Inch wide waterproof foam core ??Brushed tricot lining and soft bound edges ??Adjust to fit snugly for proper effect with low profile torque ring ??elcro closure for proper Fit ??Hand Washable with Air Dry ??Reduce spinal flexion creating safer biomechanics when lifting and provides superior back and abdominal support and is hand washable with Air Dry UNIQUELY DESIGNED ??RitFit weight-lifting belts ideal tool to help you master exercises with added safety and confidence, such as: Squats, Lunges, Deadlifts, Thrusters. This belt is not limited to leg movements - you can easily incorporate it into your advanced back and shoulder training: standing bent-over rows, standing over-the-head shoulder press, and many more! ?? Easy to Wear and Use, Suitable for all Kind of Strength Training. Comes in Five Sizes to choose (Small- 22¡±-29¡±) (Medium ¨C 30¡±-36¡±) (Large ¨C 37¡±-43¡±) (XL ¨C 44¡±-51¡±) (XXL ¨C 52¡±-59¡±) You are Backed by RitFit Protective Gear Satisfaction Guarantee Policy with Lifetime Warranty. WHATS IN THE BOX ??? 1 X RitFit Low Profile Weight Lifting Belt 6¡±Inches Black 100% CUSTOMER SATISFACTION GUARNTEED!!! FULL MANUFACTURER¡¯S WARRANTY!!! ORDER NOW!!! HURRY UP!!!
UPC: 650226625022
EAN: 650226625022
Package Dimensions: 12.7 x 6.3 x 3.0 inches
Join us as seller