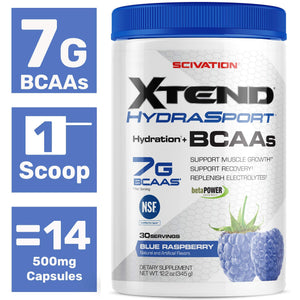 Scivation Xtend Hydrasport Bcaa Powder, Blue Raspberry, 30 Servings, Keto Friendly, Branched Chain Amino Acids, Bcaas, Zero Sugar Electrolyte Drink Powder + Hydration
Sale price Price $19.92 Regular price $19.99
Brand: Scivation
Features:
The official recovery brand of Champions: for over 10 years at Xtend, we've been using branched-chain amino acids (BCAAs) to make the best recovery products on the planet. Xtend HydraSport is a revolutionary electrolyte powder & hydration performance drink mix, enhanced with the clinically studied dose of BCAAs at a 2: 1: 1 ratio.
Clean hydration, clean electrolytes: Xtend HydraSport has zero sugar, Zero calories, and zero carbs. It is literally formulated to keep you hydrated and support muscle Growth, recovery, and replenishment of electrolytes. No funny business.
100% Satisfaction guarantee: All Xtend products are thoroughly developed, accurately tested, and proudly manufactured in the United States. All Xtend sales by Amazon are backed by a 30-day, full money-back guarantee.
Great For everyday use: Whether you are a weekend warrior, professional athlete, or full-time parent, we know you're always on the go. Our electrolyte replacement drink will be your go-to to stay hydrated and at your best!
Superior safety standards: Xtend HydraSport is both Informed-Choice Certified. This preeminent third-party testing, certification, and quality Assurance program is recognized for their dedication to keeping nutritional supplements clean, Free from banned substances, and safe for consumption.
Publisher: Cellucor Nutrition
Release Date: 01-05-2018
Details: Unlike a lot of sugary sports drinks, Xtend Sport supports hydration and recovery without sugar, carbs, or calories. The powerful performance formula does more than replace nutrients lost in sweat: The 14 grams of branched-chain amino acids (BCAAs) in the recommended daily serving (two scoops) promote muscle repair, recovery, and growth, and the electrolyte & Performance hydration blend fuels overall hydration.

xtend Sport is NSF Certified for Sport, which certifies that the product has been tested by one of the most respected independent certification companies in the world. Nsf Certified for Sport products are free from over 270 banned substances and are trusted by Pro athletes and sports organizations around the world.
UPC: 842595105308
EAN: 842595105308
Package Dimensions: 6.4 x 4.2 x 3.7 inches
Join us as seller