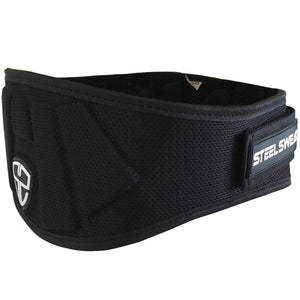 Steel Sweat Weight Lifting Belt - Nylon 6-inch Firm & Comfortable Back Support, Best for Workouts at The Gym, Weightlifting or Crossfit. Easily Adjustable MAXE Black XXL
Sale price Price $22.95 Regular price $29.99
Brand: Steel Sweat
Color: Maxe (Black)
Features:
WHAT SIZE DO I GET: STEP 1: Find your perfect fit by checking our sizing guide in the pictures. Available in Small, Medium, Large, XL and XXL. STEP 2: Get this functional and versatile weightlifting belt by clicking the Add To Cart button now.
STRONG YET COMFORTABLE for MEN and WOMEN: Contoured extra wide 6-inch lower back support. Ergonomically designed to provide a firm and comfortable support while strength training at home or the gym. The inner plush tricot lining provides a comfortable feel around your waist and helps maintain muscle warmth during your workout.
PREVENT BACK INJURY & SUPPORT CORE STRENGTH: The Steel Sweat MAXE belt provides strong stablizing support to help you achieve your workout goals. Your abdomen and back muscles play the biggest role in your overall physical stability and this belt will help support your core and will prevent back injuries when lifting heavy weights.
QUICK AND EASY TO ADJUST: This belt does not have a pre-determined set of holes unlike leather belts. It uses a thick and strong velcro support strap coupled with a matt black finished roller buckle that allows you to adjust the tightness to your exact desired support and comfort for leg and core body exercises.
MESSAGE FROM HAPPY CUSTOMERS: This belt is best used as a weightlifters belt, but it is ideal for fitness exercises such as Back Squats, Power Cleans, Deadlifts, Clean and Jerks, Overhead Squats and many more exercises. Get yours, by clicking the Add To Cart button now!
Publisher: Steel Sweat
Details: The Steel Sweat Weight Lifting Belt provides stronger, longer lasting support for quick, easy adjustments.
- Strong and flexible 6" wide by 5mm width contoured core for superior back support
- 2" wide adjustable supportive strap with secure Velcro panels for He-Man holding power
- Heavy duty steel roller buckle for quick and easy tension
- Lightweight foam core surrounded by abrasion-resistant nylon maintains muscle warmth
- Breathable plush tricot lining for bare skin comfort, even during the craziest workouts
- Industrial strength reinforced stitching to last you longer How to measure:

Our Belts come in Small to XX-Large to fit a range of waist measurements.

Do not use pant size to determine the size of the weightlifting belt. Measure your waist between your ribs and hips (around the belly button). Pull tape tight for best measurement. Don't use your pant size to determine the size of your lifting belt. Belts are designed to be worn tightly around the natural waist for support and stabilization.

Small: 24"-30"
Medium: 30"-35"
Large: 35"-40"
X-Large: 40"-45"
XX-Large: 45"-50"

You'll want this belt because it's strong, lightweight, adjustable and flexible. For you this means a nicer feeling belt that gives you maximum lower back and abdominal protection so you can focus on your lifting in comfort. Click ADD TO CART button now!
UPC: 731395511566
EAN: 731395511566
Package Dimensions: 17.4 x 5.9 x 2.9 inches
Join us as seller