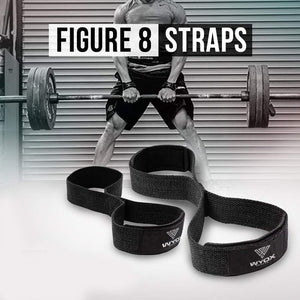 Wyox Figure 8 Weight Lifting Straps Gym Fitness Cross fit Bodybuilding Neoprene Wrist Support (Black) (Black)
Sale price Price $9.99 Regular price $0.00
Brand: Wyox Sports
Color: Black
Features:
Figure 8 design helps lock in your grip to the bar
Comfortable neoprene padding on all contact areas
Lift heavy with more confidence - Fits all wrist sizes
Extra stitching for seam reinforcement.
Price is for 2 straps (1 Pair) with 1 Year warrenty.
Publisher: WYOX sports
Details: These are super sturdy Wyox Sports made Figure 8 Lifting Straps. These are a MUST for a solid grip on the bar when you're lifting heavy. Designed to double-loop around your wrists, these straps help lock you into the bar or dumbell you're lifting. 100% Super Strong Cotton Blend and Neoprene Padding on the contact areas makes these both strong and comfortable. Designed to fit any wrist. Sold as a pair (2 Straps) - an incredible value for this quality.
UPC: 681173511427
EAN: 681173511427
Package Dimensions: 9.9 x 4.5 x 1.7 inches
Join us as seller